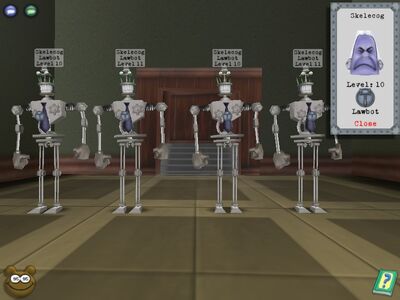 Skelecogs are incomplete cogs or skeleton versions of the cog. Skelecogs can range from lvl 4-12 and have the exact same attacks as the form they take. For example: Here when we click on the skelecog nametag, it shows that it's a bigwig. This means that it has all the same Bigwig attacks. Skelecogs are commonly sighted in: Boss battles, or factories. Unless there happens to be an invasion, that's the only place to find them.
Ad blocker interference detected!
Wikia is a free-to-use site that makes money from advertising. We have a modified experience for viewers using ad blockers

Wikia is not accessible if you've made further modifications. Remove the custom ad blocker rule(s) and the page will load as expected.